Ah, Route 66! The great clogged artery that funnels workers, tourists, politicos, and dreamers – eventually - into our nation's capital. Instead of following the pack eastward, take a day or a weekend and turn yourself around and head west. Once you get past the megalopolis that is Manassas, the astounding beauty of Fauquier County unfolds: unpaved country lanes, bucolic farmloads of cows, rabbits and possums galore.

And the wine! Along the Fauquier Wine Trail, there is a winery for every niche and quirk and special interest.
Ready to leave the city behind? We've devised four fascinating, fun and not-really-bite-sized day trips. They are ambitious, some having up to five wineries in a day. But if you eat a good breakfast, bring lots of water, and spit every once in a while - or at least to not finish the whole pour every time – you'll do just fine, and you'll get tons of respect from your pourers.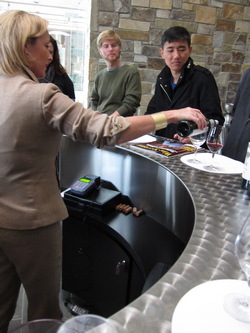 Northern Section: Mountain Views
Start Here: Boxwood Winery
Boxwood Winery was created with the best of everything, from its vineyards planted with certified French grapes, to state of the art equipment completed by stainless steel pipes. You'll be struck by the graceful round stainless steel tasting bar as you enter. Only five wines are made here, each a gem. Peek in at the circular barrel room to the right, and the winery's gleaming bottling line to the left. Consider getting a group together for the "Indulgent" tasting: tour, seated tasting, cheese, charcuterie, almonds and wine. 2042 Burrland Lane, Middleburg (540) 687-8778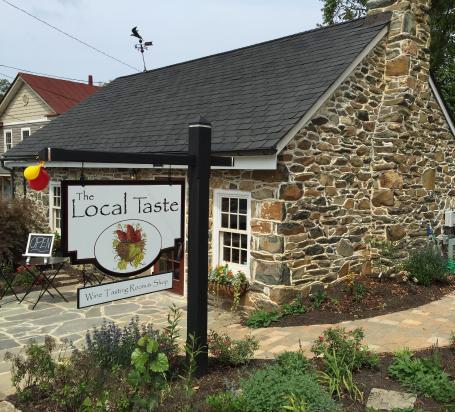 Next Stop: Slater Run Vineyards
Owner Kiernan Slater Patusky's family has owned property in Fauquier County since 1720. Still a working farm, Slater Run has a tasting room called The Local Taste in a historic stone cottage Upperville. Winemaker Katell Griaud hails from France and her family's Chateau Kalian is an exotic treat. Select from a menu of cheeses, charcuterie, baguettes and more, or bring a picnic to enjoy on the patio. 9030 John S Mosby Hwy, Upperville (540) 592-3042 Want to visit Slater Run Vineyards directly? The winery is open weekends May through October. 1500 Crenshaw Road, Upperville (540) 592-3042
LUNCH: Hunters Head Tavern, practically next door, is owned by Ayrshire Farms and prides itself on its organic, local and non-gmo meat and produce. The pub-style fare features favorites like Fish & Chips, Guinness Beef Stew and Bangers and Mash. Burgers and salad are on offer, and even organic Hot Dogs. The wine list has a nice selection of Virginia wines. 9048 John S Mosby Hwy, Upperville (540) 592-9020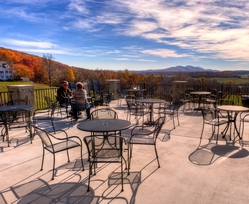 Next Stop: Delaplane Cellars
Single-vineyard wines show winemaker Jim Dolphin's focus on terroir and his winemaking philosophy of less is more. Don't miss the Benevino Cabernet Franc – fruit from this vineyard shows up in some of the finest wines produced in VA. The view from the tasting room on Lost Mountain showcases rolling mountain and vineyard views of Crooked Run Valley Rural Historic District. Grab a seat at the window tables or sunny side or front decks. 2187 Winchester Road, Delaplane (540) 592-7210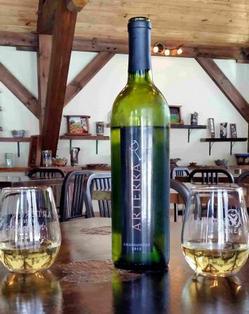 Next Stop: Arterra Wines and Hawkmoth Arts
Precision, delicacy and balance are the hallmarks of the hawkmoth, namesake of wife Sandy's ceramic studio, and an apt description of husband Jason's wines. Both are available in the couple's tasting room/gallery, making for an exciting exploration of the creativity of two very fine Virginia artisans. Particularly praised is Jason's Tannat, a variety that is becoming a new Virginia signature selection. 1808 Leeds Manor Road, Delaplane (540) 422-3443


Delaplane Area: Rolling Hill Views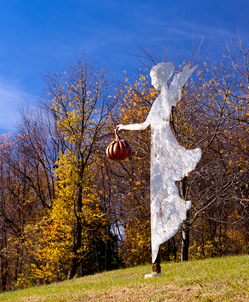 Start Here: Miracle Valley Vineyard
Homey and comfortable, Miracle Valley Vineyard welcomes you with butterflies and rose gardens bordering the flagstone patio. An 8-foot angel, the work of sculptor Lei Hennessey-Owen (noted for her 9/11 angels) watches over all. Juicy, tasty wines are poured here, by owner Mary Ann and her tasting room staff, many of whom are neighbors who love having a winery within walking distance. Stay for music in the Pavilion on weekends. 3661 Double J Lane, Delaplane (540) 364-0228
LUNCH: Gentle Harvest is a nice spot to catch a casual lunch. Their "Superfood Salad" comes with quinoa, lentils or chickpeas, and with or without roasted chicken. Ayrshire Farm Hot Dogs can be had in a gluten-free bun and the Jacket Potatoes are topped with practically anything you may desire. 8372 West Main St. Marshall (540) 837-4405
Next Stop: Cobbler Mountain Cellars
Cobbler Mountain Cellars has turned into Cobbler Cellars Cidery. The focus in the Tasting Tavern is on a creative line up of hard ciders such as Jammin Cranberry Ginger, Maple Stout, Wild Blackberry Hop, and more. Picnic tables dot the vast property and there's plenty of space to play, picnic, or throw a frisbee. Remember to get your $50 pewter cider mug for a complimentary pour on all future visits. 5909 Long Fall Lane, Delaplane (540) 364-2802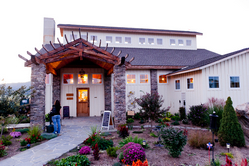 Next Stop: Barrel Oak Winery & Farm Taphouse
A visit to Barrel Oak is a romp in the park – with wine! Calling itself the #1 family friendly winery in the world, owners Sharon and Brian Roeder think building a community is at least as important as crafting award-winning wines. Come here for the camaraderie and, now, for the beer too, at the Barrel Oak Farm Taphouse. 3623 Grove Lane, Delaplane (540) 364-6402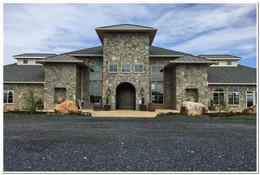 Next Stop: Blue Valley Vineyard and Winery
Stately and elegant, you'll think you've discovered a resort class hotel lobby at Blue Valley. The family heritage of making wine goes back to the mountains of Greece, and in fact they still own an olive grove there. Try their olive oil dip from the 100-year-old grove as you savor and sip in this "rustic meets modern" tasting room. 5535 Blue Valley Way, Delaplane (540) 364-2347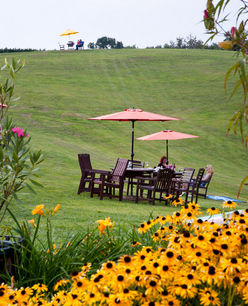 Next Stop: Three Fox Vineyards
Picnic tables are scattered among the vines at Three Fox, and the flower bedecked patio shows an affinity with the Italian countryside embraced by owners John and Holli. Even the wines have an Italian flair: rarely found in Virginia, you can sample excellent pinot grigio, sangiovese and nebbiolo here. There is an outdoor tasting bar so you can enjoy your tasting al fresco in fine weather. And, yes, the name reflects the wildlife that can sometimes be seen frolicking through the grapes. Check to see if the bocce balls will be out on the day of your visit. 10100 Three Fox Lane, Delaplane (540) 364-6073


Western: Pastureland Views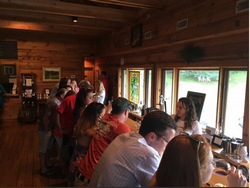 Start Here: Naked Mountain Winery
How do you get into the White House? Try showing up with a bottle of Naked Mountain Chardonnay. Not once-, but twice-selected to be served at White House dinners, this venerable but fun winery invites you to Drink Naked - on the newly expanded desk nestled in their wooded glen. Key in on the Tannat 2016 that won gold at the VA Governor's Cup Competition, or taste-test Naked Mountain's line of lighter wines, like Skinny Dipper 2016, a sweet vidal blanc, and Make Me Blush, a pink chambourcin. 2747 Leeds Manor Rd, Markham (540) 364-1609
Next Stop: Aspen Dale Winery at the Barn
Loaded with charm, the "Barn" nomenclature is literal in this case. You can pet mini-horses and watch goats, roosters and chickens in situ. Taste either in the 200-year-old barn or in the 18th-century manor house. Wine tastings come with a food pairing that can include pheasant sausage, Sage Darby cheese, white chocolate and other delights chosen to highlight the wine. Afterward, savor quiche, a vegetable or fruit tray (reserve in advance) at the winery's gazebo or take home. 11083 John Marshall Hwy, Delaplane (540) 364-1722
LUNCH: The Orlean Market Deli & Convenience Store is your lunch stop today. Grab a quick bite - Angus burgers, gourmet sandwiches, pizza, quiche, and be on your way. Or circle back to co-located Gilliam's Pub after 5pm for dinner on your way home. 6855 Leeds Manor Road (540) 364-7339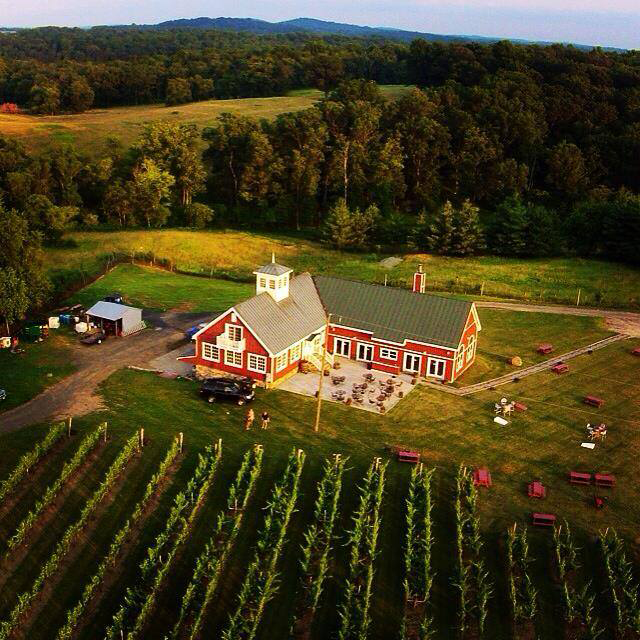 Next Stop: Philip Carter Winery
Philip Carter wine medaled in London…in 1762! Current owner Philip Carter Strother is a direct descendent of Charles Carter who entered that long-ago competition. Check to see if any special tastings - for instance, the Art of Food & Wine Pairing, an experience where you contrast, compare and challenge some common wisdom - or wine education classes – history of VA wine; cooking with wine - will be held the day you plan to visit. If not, pass the time with any of several engaging bottles and the winery dogs Corotoman and Fairfax. 4366 Stillhouse Rd, Hume (540) 364-1203
Next Stop: Winding Road Cellars
Barn red and surrounded by daffodils, Winding Road presents a plate of cheese and crackers to complement your tasting in their pine tasting room erected by Amish craftsmen. Afterwards, settle in to enjoy a game of chess or checkers, or try your hand at the jigsaw puzzles often in progress. 4289 Leeds Manor Rd, Markham (540) 364-1025
Next Stop: Desert Rose Ranch and Winery
At Desert Rose, visitors love bellying up to the horseshoe-shaped tasting bar. Bob, the fellow in boots and cowboy hat - he grew up on a ranch in Oregon - will introduce you to a unique grape, Crimson Cabernet, the main ingredient in his Covert Cab. Unleash your inner cowboy as you bask in the Western theme while sampling a selection of 4, 8, or 10 different wines. Call ahead for a special seated Reserve tasting. 13726 Hume Road, Hume (540) 635-3200


Warrenton: Town and Country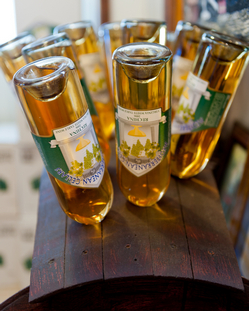 START HERE: Mediterranean Cellars
The Papadopoulos family hails from Greece, where winemaker/owner Louis Papadopoulos grew grapes, lemons, and more. Arriving in Virginia in 1979, he noted the similarity of the red clay soil here to that of his homeland. Savor their unique Rechina, the family's take on the classic resinated wine of Greece, retsina. This version is refreshing and subtly piney, and a perfect match to grilled lamb chops Mediterranean style. 8295 Falcon Glen Road, Warrenton (540) 428-1984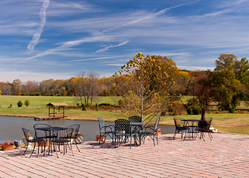 Next stop: Molon Lave
If you've guessed this winery is Greek in heritage, you'd be right. This is the Papadopoulos family's second property, run by son Louizos. The name Molon Lave comes from the famous battle cry of Spartan King Leonidas. Set in the middle of 50 rolling acres, the decor and music are Mediterranean, and the rose' is called Kokineli. This wine features notes of rosemary, thyme and sage, married to clean strawberry fruit - excellent with grilled white fish. 10075 Lees Mill Road, Warrenton (540) 439-5460
LUNCH: Now that your palate is whetted for all things Greek, stop for lunch at Northside 29 Restaurant. Moussaka, souvlaki, gyros and more grace the menu, as do standard diner comfort foods like burgers, meatloaf and club sandwiches. 5037 Lee Highway, Warrenton (540) 347-3704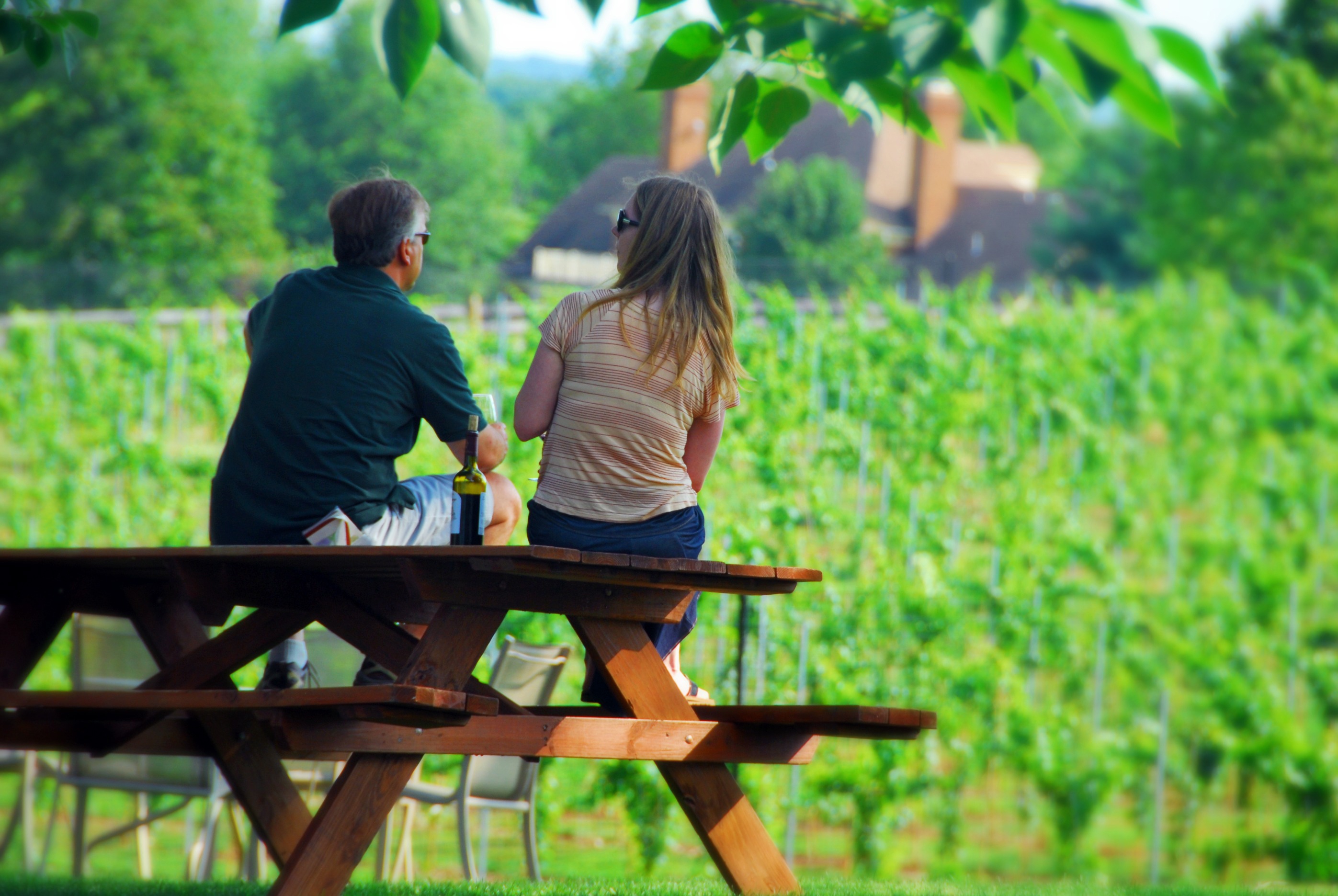 Next stop: Pearmund Cellars
Birthplace of Virginia's original Barrel Club, Pearmund Cellars has a comfy, casual atmosphere that caters to adults only on the weekend. Don't miss the award-winning Petit Manseng from South River Vineyard, vinified dry and with kiwi, citrus and luscious pineapple flavors. A perfect accompaniment to a game of corn-hole, or kicking around the soccer balls you'll find on-site. Note the 15-acre vineyard – it dates back to 1976 and has been known for its extraordinary chardonnay through the decades. 6190 Georgetown Road, Broad Run (540) 347-3475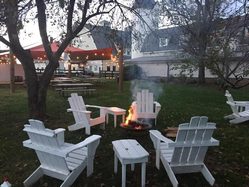 NEXT STOP: Vint Hill Craft Winery
Sshhhh! You've entered a spy zone! In 1944, this secret US military base intercepted the German encryption codes that led to the end of World War II. Celebrating this history, you'll now find wines with playful names and retro WWII pin-up girls adorning the labels. And, under the direction of Vint Hill's winemaker, you can learn the secrets to making your own private label wines at this custom-crush facility using Virginia grapes or fruit imported from California or Washington. 7150 Lineweaver Road, Warrenton (540) 351-0000
If you're up for more imbibing, pop in to Old Bust Head Brewery in the complex and maybe eat a bit before attempting the drive home: Covert Café for soup, salad, sandwiches or burgers.
See all wineries in Fauquier County here http://www.visitfauquier.com/things-to-do/wineries