Wine tasting is a thirsty business. All that driving driving driving on twisty backroads, craning your neck over those never-ending valley views, constantly hefting that smartphone for yet another Instagram pic?

Wouldn't it be lovely if you could just dine at the winery, instead of having to hunt down a Mickey D's in the middle of nowhere?

And...here you go. We at Virginia Wine in My Pocket are here for you, always and forever. At least when food's involved.

These Virginia wineries offer everything from small plates to gourmet dinners.




Northern Virginia
868 Estate Vineyards, Purcellville (See photo at top)
Charming full-service restaurant, Grandale Vintner's Table, serves a fresh and local upscale menu for lunch and dinner, Friday-Sunday (including Sunday brunch). The view of the vineyard's grounds from the deck can't be beat. A casual food venue, The Grill, is located outside in the Pavilion, serving burgers, bbq and other light fare from May through October.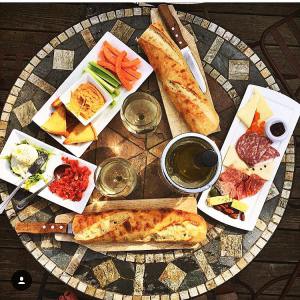 Bluemont Vineyard, Bluemont
A plentiful menu of snacks includes flatbread pizzas, plates of Italian burrata with tapenade and baked brie, and cheese and charcuterie plates. Nibbles include a nice selection that ranges from honey chocolate truffles to farmers cheese, three types of imported salami, olive oil on tap, spreads, tapenades, chips, and crackers.
Breaux Vineyards, Purcellville
Traditional cheese, bread, meats, and chocolates are supplemented by a menu of hot items that change weekly, including panini, brisket, BBQ, Jambalaya, and baked pretzels.
Cardamon Family Vineyards, Purcellville
Each weekend brings a selection of Mexican Street Tacos, as well as an eclectic assortment of homemade salsas and fresh tortilla chips.

Chateau O'Brien, Markham
Nice selection of light fare, including croissant sandwiches, flatbreads, cheeses, and chocolate by-the-piece in an adults-only environment with beautiful views.
Creeks Edge Winery, Lovettsville
Bistro menu offers a well-thought-out bevy of foods that pair beautifully with wine, including flatbread pizzas, dips, and cheeses, plus sandwiches such as a BLT, chicken Club sandwich, Rueben, grilled cheese, and grilled sausages, AND Buffalo Chicken dip, spicy Thai nuts, roasted Brussels sprouts, and more.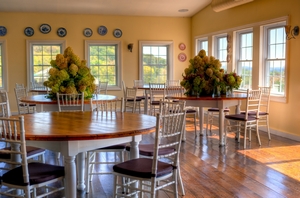 Hillsborough Vineyards, Hillsboro
Weekend menu has a small but interesting choice, such as the Shrimp Stack, with guacamole, black beans, bruschetta, shrimp, and sour cream paired with crispy tortilla chips. Parsnip and Carrot Fries sound awesome, as do the panini (turkey or chicken salad), hummus and tapenades, and the Roasted Tomato Bruschetta served with a mozzarella ball and warm ciabatta.
Narmada Winery, Amissville
Pair some Indian fare with Narmada's food-friendly wines. Weekends bring a rotating assortment that may include small plates of Butter Chicken, Lentil Curry, Vegetable Samosas, Lobster Bisque, plus dips and naan bread.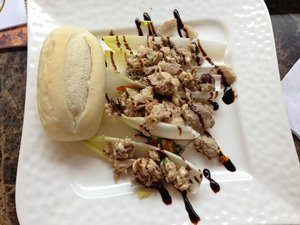 Potomac Point Vineyard, Stafford
Le Grand Cru Bistro serves lunch and dinner Wednesday through Sunday, including Sunday brunch. (Hours vary, check website.) Inspired menu includes crab cakes, mussels, duck confit, and shrimp & grits, along with creative salads, sandwiches, desserts, and even Rappahannock oysters on weekends. Many items gluten free.
Quattro Goombas Winery & Brewery, Aldie
QG's Pizza Shop cranks out square-cut, Sicilian style pizza for legions of loyal fans.
The Vineyards and Winery at Lost Creek, Leesburg
Along with goodies to enjoy in the tasting room and gourmet sandwiches for picnics, the menu includes snacks such as imported cheese and charcuterie and a crostini trio, plus salad, sliders, and a tempting Wine Country Chicken or Beef Burgundy.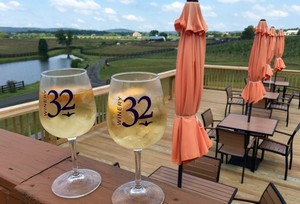 Winery 32, Leesburg
Variety of $8 Bistro items on weekends, made by owner/winemaker/chef Michael Moosher. Vegetarian choices, including Curry chickpeas, butternut squash, and kale over basmati rice, plus an assortment of pasta dishes, BBQ, turkey chili, and carnita with salsa and guac.
Central Virginia
Barboursville Vineyards, Barboursville
The renowned, upscale Palladio restaurant serves Northern Italian cuisine for lunch (Wednesday – Sunday, reservations suggested) and dinner (Friday & Saturday, reservations required). Lunch ranges from two courses for $41 ($51 with wine) to $55 for four courses ($71 with wine). Four courses for dinner are $80/person; add $30 for wine pairings.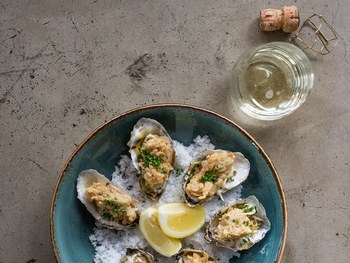 Early Mountain Vineyards, Madison
Rotating farm-to-table menu served in the expansive tasting room or patio with a view includes local cheeses, salads and simple sandwiches crafted from fresh ingredients, creative pastas and desserts. Specialty items often make an appearance, such as local oysters.
Gabriele Rausse Winery, Charlottesville
Made-in-house sourdough baguette and Sicilian olive oil accompany tastings. A small choice of pairing dishes for purchase recently included biscuit with Havarti, duck leg confit, and homemade ice cream with toppings.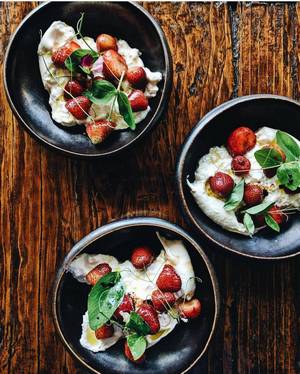 Pippin Hill Farm Winery, North Garden
Table service in the tasting room and a menu that incorporates herbs and vegetables grown in the winery's kitchen garden. Pippin Hill's popularity is well deserved, and the food offerings are among the most varied and well executed in Virginia Wine Country.
Trump Winery, Charlottesville
Seasonal lunch menu available in the tasting room or attached covered patio, including cheese and charcuterie, salads, sandwiches, and flatbreads.
Upper Shirley Vineyards, Charles City
The chef prepares full lunch, small plates and desserts with a Southern slant, available daily (except Tuesday), on a menu that runs the gamut. Local seasonal choices may include Fried Virginia oysters, grilled cheese topped with Edwards' country ham, and Hanover tomato sandwich on white with Duke's mayo. Check the calendar for occasional Thursday evening Prix Fix dinners, with four courses, five wines, river views and live music.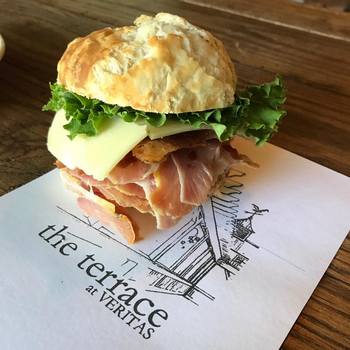 Veritas Vineyards and Winery, Afton
The Terrace at Veritas offers casual, al fresco dining from Friday through Monday, 11-5, including a simple kids' menu, seasonal salads, rustic sandwiches on ciabatta and focaccia, along with five vegetarian options. Veritas' on-site lodging, The Farmhouse, also offers reservation-only dinners Tuesday through Saturday nights. The four-course meals are paired with Veritas wines. $85/person includes food, wine and gratuity.
Shenandoah Valley

CrossKeys Vineyards, Mt. Crawford

On-site bistro with a big choice of starters, salads, sandwiches and mains, including lobster salad sliders, smoked and grilled wings, sesame tuna, flank steak, and more. Available daily 11-6:30 April through October (until 4:30 November through March). Sunday brunch weekly. Check website for Fireside Fridays, when bistro menu is available until 8:30.
Whitebarrel Winery, Christiansburg
The winery's on-site kitchen serves up tapas, small pizzas and sliders daily in the afternoon and Wednesday – Sunday evenings. Brunch also available Saturday and Sunday.
Hampton Roads
Williamsburg Winery, Williamsburg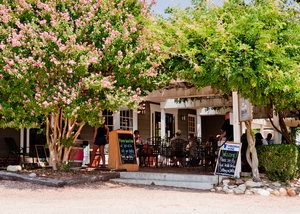 The Gabriel Archer Tavern offers lunch daily until 4 (until 6 on Saturdays) and Sunday brunch. On weekends in the Tavern's Wine & Brine Lounge, fresh oysters are trucked in from a list of purveyors that changes weekly, along with shrimp, mussels, and burgers, all served up until 7 on Saturdays and 5 on Sundays (March – November).
Café Provencal is Williamsburg Winery's upscale eatery, located at Wedmore Place – the winery's on-site lodging – just down the lane from the winery. Dinner is available a la carte, or as a 5-course tasting menu for $79 (add $30 for wine pairings).
Mermaid Winery, Norfolk
In Norfolk's Ghent neighborhood, this urban wine bar and restaurant also produces its own wine. Lunch, brunch and dinner available; open daily until 11PM, until midnight on weekends.
Blue Ridge Region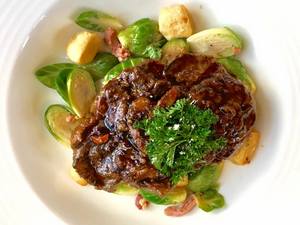 Chateau Morrisette, Floyd
Chateau Morrisette's on-site, full-service restaurant serves a Southern-style menu featuring regional products, such as North Carolina catfish, Byrd's Mill grits in a classic Shrimp & Grits, and Virginia little neck clams. Numerous vegetarian and gluten-free options available. Open for lunch year round Friday-Sunday, and for dinner year round on Saturday and Sunday. Lunch is also available during summer months and in October; see the full schedule here.
Rural Retreat Winery, Rural Retreat
This mom-n-pop winery in southwest Virginia's Rural Retreat serves wine tastings and deli sandwiches in a casual downtown eatery.


Chesapeake Bay Region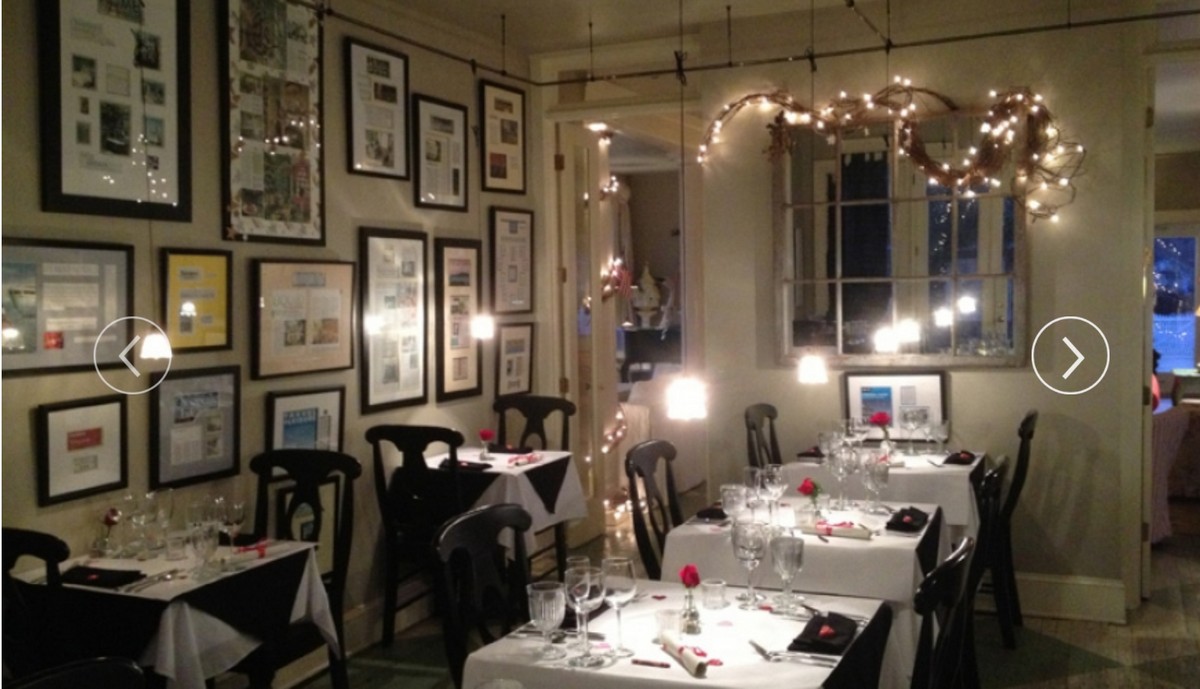 Dog & Oyster Vineyard, Irvington

D&O is owned by the renowned Hope & Glory Inn, which is less than half a mile's stroll from the winery. Reservations are required to dine at the intimate restaurant within Hope & Glory (call 804-438-6053), where a prix fixe, four-course fine dining experience is offered five days a week in season. The menu changes seasonally, and includes locally sourced produce and seafood, especially oysters.








MORE FOODIE NEWS FROM VIRGINIA WINE IN MY POCKET

For more places to eat in Virginia Wine Country, check out our Eat page.

Love wine and food pairings? See our Wine & Food Pairings: Which Virginia Wineries Do It Best?.






Sign up for our monthly eNews to get all the Virginia Wine Country info!

Follow us on Facebook.