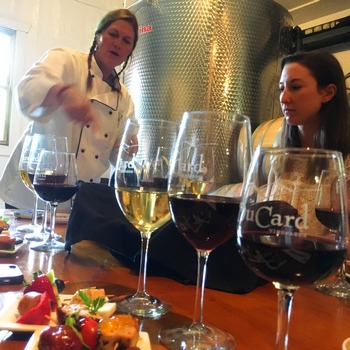 DuCard Vineyards recently asked me out to their little piece of paradise: Would I care to experience their Barrel Room Food & Wine Pairing program?

I'd like to say I was all nonchalant - yawn, been there done that - but truthfully, and a little pathetically, I lust after food and wine pairing events. I could gobble those down every day, three meals a day. So I played it cool and responded why yes, I would be delighted to attend such a lovely event, how kind of you to invite me while the whole time I was thinking Score!
I'll just cut to the chase and tell you: it was awesome. Here's what I loved.
• Private, small group in the Barrel Room
• Seasonal menu of 15+ "tastes" - many from Chef Kris Krammes' home garden
• Four generous pours of very nice current wines, plus one barrel taste
• Casual, fun presentation by personable Chef Kris that encouraged cross-talk, questions, and laughter
• No-rush atmosphere
• The very special feel of this winery's place in the palm of the mountains
And, again, Kris Krammes. And once more for good measure: Chef Kris.
[Tip for those offering wine/food pairing events: Good wine is important. Good food is really important. But an engaging host can mean the difference between "that was a nice event" and "we should really join their Wine Club".]
The Wine and Food Connection
Anyone who's savored a peppery, grilled Rib-Eye paired with a deep, dark Cabernet Sauvignon understands the concept of perfect pairing. Think Port and Stilton, Pizza and Chianti, Champagne and smoked almonds, Petit Manseng and Fritos*. (*Fritos pairing notes provided by Adrienne Albers of DelFosse Vineyards, who also tested Cheetos and Rose. Major fail.)
But offering food pairings is not without its challenges, whether at the tasting bar or an event.
Food is messy, expensive, and, if pairing it with wine at the tasting bar, can really slow things down. Time is money on busy tasting days.
On the other hand, those who figure it out may find that wine/food pairing can bring in extra revenue, attract more-educated clients (who are fun to have around and may not mind spending a little more on local wine) or cultivate wine newbies (who are also fun to have around, and may become loyalists). And if they have an "in-house" chef, it gives Chef a chance to show off a little.
Here are a few Virginia wineries who've embraced the food pairing. Let us know who we're missing.




FOOD PAIRING AT THE TASTING BAR
These are pretty rare, and it would be ever so lovely to see more. Nothing's more fun than the blaze of a gustatory light bulb clicking on.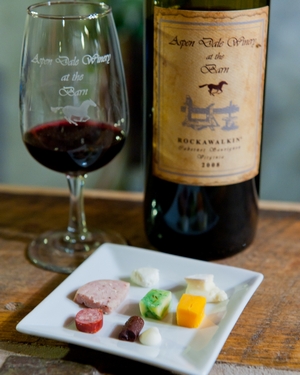 Who Does It:
868 Vineyards, Neersville (NoVa)
Two enhanced tasting options include the Elevated Tasting, six wines paired with five sweet or savory morsels ($20/person) and the Truffle Tasting, six wines paired with four chocolate truffles that sound so seductive we can't share details here because your tastebuds would just get all hot and bothered ($14/person).
Aspen Dale Winery, Delaplane
One of the first to offer food pairing nibbles at the bar. (You can also pre-order quiche, veggie and fruit trays, and chocolate cake for lunch.)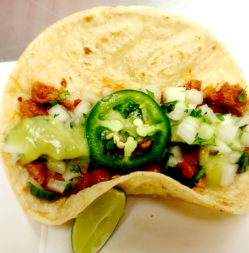 Cardamon Family Vineyards, Purcellville
Homemade salsas available for tasting and take-home. Cardamon also sells fresh tortilla chips ($1) and a variety of house-made Mexican street tacos. $7/two tacos.
Fabbioli Cellars, Leesburg
Seven wines paired with small gourmet bites, served and discussed at cozy tasting tables by knowledgeable winery staff. $15/person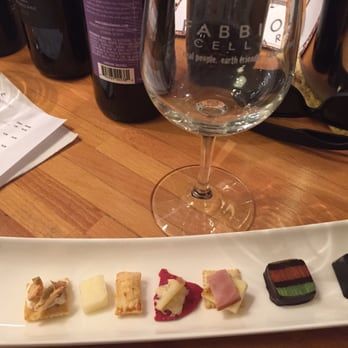 Magnolia Vineyards and Winery, Amissville
Cheese pairings included with wine tasting. $10/person
North Gate Vineyard, Purcellville
Chocolate truffle pairings available for an additional charge. $13/person includes wine tasting and truffles.
*Breaux Vineyards also has a truffle pairing option.
RdV Vineyards, Delaplane
RdV doesn't have a tasting bar, per se. Winery visits are scheduled in advance, and include a tour and tasting of wine with a generous cheese and charcuterie plate. $50/person

FOOD DAYS
There's beauty in simplicity, and some wineries have tapped in to that, creating iconic events that have lasted more than a decade in some cases and still never fail to draw a crowd.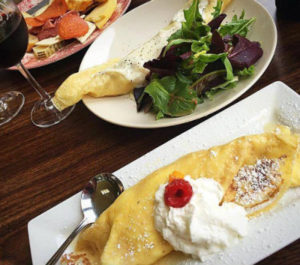 Who Does It:
DelFosse Vineyards, Faber
Fans drive for miles for DelFosse's traditional French Crepe Sundays, held twice a month. Vegetarian (and sometimes vegan) option always available.
Fox Meadow Winery, Linden
Every fall brings Chili Days to Fox Meadows. One price gets you a bowl of chili with all the fixings, side of bread, and glass of wine.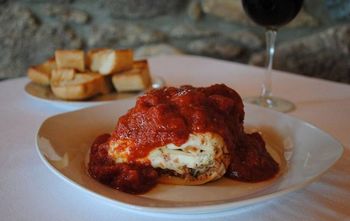 Naked Mountain Winery, Markham
Naked Mountain's winter Lasagna Lunch has been packing the house for as long as anyone can remember. Weekends, January through March.

TASTING EVENTS
Dinners, classes, VIP tastings: nearly every winery has them, and many sell out quickly. Check websites for your fave wineries, or even better, join their email lists or Wine Clubs for advance notice. Here are a few fan favorites.
Who Does It?
DuCard Vineyards, Etlan
Barrel Room Gourmet Food & Wine Program includes 15+ "tastes" paired with four wines plus a barrel tasting. Offered most weekends, reserve online, $43 + tax & tip/person

Little Washington Winery, Washington
Casual, fun classes on dessert & wine pairings and cheese & wine pairings. Offered regularly on weekends, reserve online, $40/person
Pearmund Cellars, Broad Run
"The Full Monty" is a private wine tasting class that includes cheese and charcuterie pairings. By appointment. $50/person

Philip Carter Winery, Hume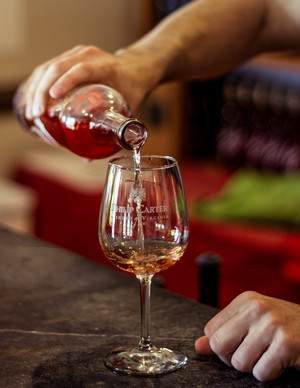 Two foodie events are available by reservation, including The Art of Food & Wine, which pairs wine with local and regional cheeses, meats and condiments ($25/person), and The Art of Wine & Cheese, a fun workshop on pairing wine with domestic and imported cheeses ($25/person).
Stone Tower Winery, Leesburg
Winery Tour with Wine & Cheese Tasting, by reservation. $45/person



Hungrier than that? Check out our 25 Virginia Wineries for Dining Guide here.



Subscribe to our monthly eNews for updates on what's happening in Virginia Wine Country!

Follow us on Facebook.