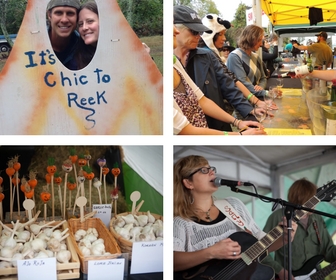 Every October, the Lynchburg area reeks. Don't let that scare you.
Ground zero for the odiferous phenomenon is actually 30 minutes north, at Rebec Vineyards, site of the rolicking annual Wine & Garlic Festival. As a home base for the funky festival, Lynchburg rocks.
First, the fest: It's Virginia's largest agricultural festival and features Virginia wineries, live entertainment, arts, crafts and plenty of garlic, which - to be fair - some consider to be the culinary world's greatest perfume.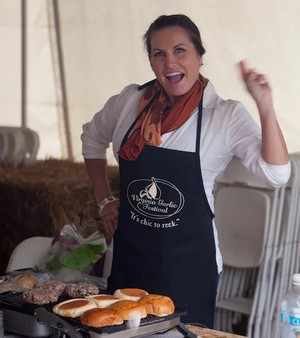 Ten bands on four stages, the crowning of the Garlic Queen and Junior Garlic Queen, wine tastings, and plenty of garlic, from garlic braids to garlic burgers.
More than 20,000 people make the pilgrimage each year, so be sure to
get your tickets early
and book
accommodations
.
October 14-15, 2017
Rebec Vineyards
2229 North Amherst Highway, Amherst, VA
Tickets $15-$40
Lynchburg has it all: the luminous Blue Ridge Mountains, the scenic James River, a thriving downtown scene with art galleries and museums, historic sites, restaurants and nightlife. But a visit here would not be complete without a sampling of all the great wines and craft beers being created here by passionate, dedicated individuals.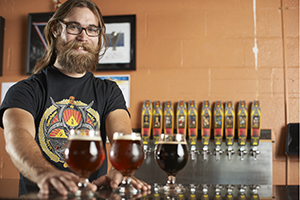 Apocalypse Ale Works
1257 Burnbridge Road, Forest 434-258-8761
The end of bad beer is here! proclaims Apocalypse Ale Works. Tasting room and brewery are located at the old Forest Volunteer Fire Department. Apocalypse boasts a beer for every palate. Kegs, cans, and bombers are available, as is vegan comfort food.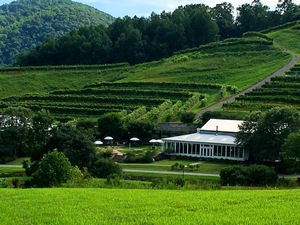 DelFosse Vineyards and Winery
500 DelFosse Winery Lane, Faber 434-263-6100
DelFosse's terraced vineyards are unique in the Virginia winescape and produce memorable wines with a European flair. DelFosse also offers an historic chestnut log cabin - over 100 years old, renovated in 2005 - for a romantic weekend stay on the property.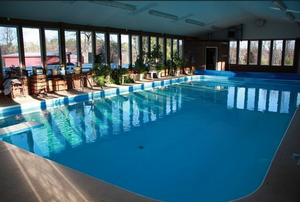 DeVault Family Vineyards
247 Station Lane, Concord 434-993-0722
Highlighting American grapes like Norton and Niagara, DeVault boasts an indoor heated Olympic-sized swimming pool, tennis, volleyball and basketball courts, and a stocked fishing pond. Taste in the rustic tasting room, or rent all -or a piece of - the property for your private party.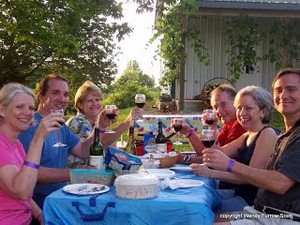 Hickory Hill Vineyards

1722 Hickory Cove Lane, Moneta 540-296-1393
Longtime natives of the Smith Mountain Lake area, Roger and Judy Furrow started out as hobby winemakers when in 2002, daughter Wendy Furrow-Scott caught the winemaking bug as well. Now producing 18,000 bottles a year, the winery has earned over 50 medals in international competition.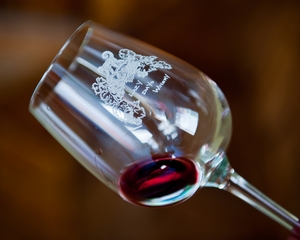 Lazy Days Winery
1351 North Amherst Highway, Amherst 434-381-6088
With spectacular views of the Blue Ridge Mountains, Lazy Days features Cabernet Sauvignon, Merlot, Malbec, Chardonnay and more, along with peach and blackberry wine. There are also plantings of such rare (for Virginia) grapes like Pinotage, Albarino and Arneis. Known for its Summer Solstice Festival as well as live music on Sangria Saturdays.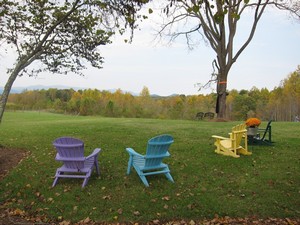 LeoGrande Vineyard and Winery
1343 Wingfield Drive, Goode 540-586-4066
LeoGrande Vineyard and Winery is located on a 400-acre farm in the heart of Bedford County. The gift shop is in the living room, and in the study, a tasting area is set up on top of wine barrels where the unassuming owner and winemaker, Norman LeoGrande, pours his mostly- Italian varietals as you take in the Peaks of Otter view.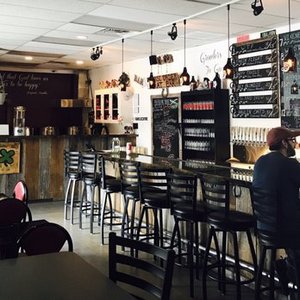 Loose Shoe Brewing Company
198 Ambriar Plaza, Amherst 434-946-BEER
Craft beer brewer Derin Foor caught the bug early, working in the garden with his grandpap and enjoying beer and cheese at the end of a hard day. He prides himself on working with non- traditional ingredients and making beers outside of the commonly accepted styles.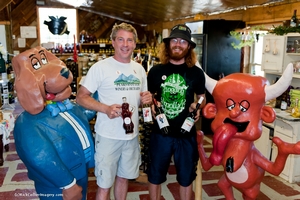 Peaks of Otter Winery
2122 Sheep Creek Road, Bedford 540-586-3707
Just off the Blue Ridge Parkway, the family of Peaks of Otter has farmed here for six generations and is admired for making fun fruit wine. From apple to elderberry, peach to yes, even grapes, the wines here are unique. The family homestead, Elmo's Rest, is available for rental and is a great spot for a honeymoon.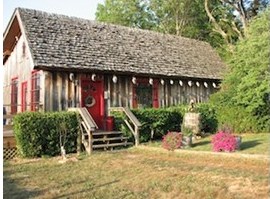 Rebec Vineyards
2229 North Amherst Highway, Amherst 434-946-5168
For a "stinkin' good time," visit Rebec Vineyards in October for their
Wine and Garlic Festival
, the largest agricultural fair in Virginia highlighted by 4 stages for live entertainment as well as arts, crafts and specialty foods. The wines at Rebec run the gamut from Chardonnay to Cabernet Franc, Riesling, Merlot and fruit wines. With 18 wines in the portfolio, there is something for every palate.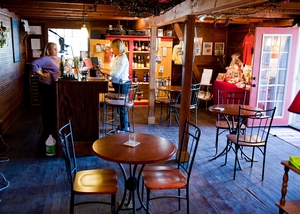 Sans Soucy Vineyards
1571 Mount Calvary Road, Brookneal 434-376-9463
Wine and beer are on offer here, with food supplied by a food truck vendor each weekend. Sited on gently rolling slopes formerly planted to tobacco, Bordeaux, Alsatian, Rhone and Spanish grapes now thrive along with an interesting selection of fruit wines. Their ginger wine is one of a kind.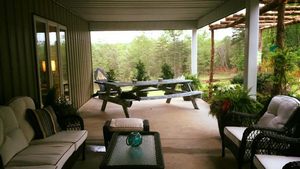 Seven Doors Winery
5800 Johnson Mountain Road, Huddleston 540-589-9530
Seven Doors aspires to create organic and biodynamic Virginia wines. As the project develops, you'll find organic and biodynamic wines from around the globe to sample here. Mindfullness, yoga, and consciousness are the touchstones at this winery.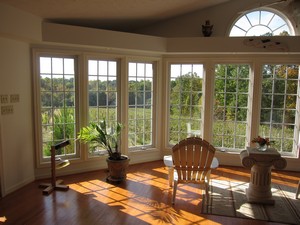 White Rock Vineyard & Winery of Virginia
2117 Bruno Drive, Goodview 540-890-3359
Vineyard, winery and brew haus, White Rock produces both wine and beer. Perhaps most unique among offerings in Virginia, there are four flavors of vino slushies in botabags: Margarita, Very Berry, Peach Bellini and Sangria.
---
For more to do in and around Lynchburg, see
Three Days in Lynchburg: Wine, Dine, and Roam