~ Center of the Universe ~
Only 15 minutes north of Richmond on I-95, the
Town of Ashland and surrounding Hanover County
is in an unbeatable location in the heart of Virginia, an hour's drive from Colonial Williamsburg, Jamestown, and within two hours of Monticello and Mount Vernon. Visitors can swim in the Atlantic Ocean at Virginia Beach, hike the Blue Ridge Mountains, or journey to the nation's capital, all within a two-hour drive.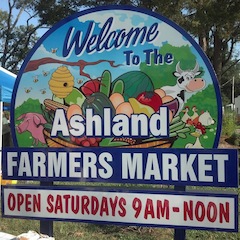 Some visitors stop off for a quick bite or fill-up on their way north or south, and some use Ashland as their base for a
King's Dominion
getaway (the popular theme park is only a 10-minute drive). But as with so many of Virginia's small-town gems, the best appears when you linger a little longer.
Over the last century or so, the town of Ashland, a getaway spot for 19th-century Richmonders looking to escape the big city, was mostly centered around the Ashland Train Station (which now serves as a
Visitors Center
). But important cultural happenings were part of the county's history well before. In 1775, Patrick Henry, the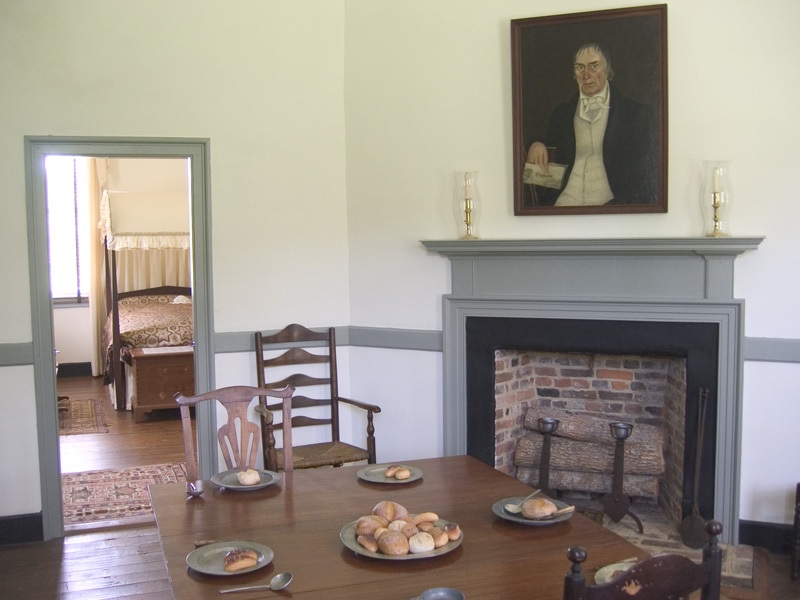 "rhetorical backbone of the American Revolution," set off for Richmond from his home in nearby
Scotchtown
to deliver his seminal "Give me liberty, or give me death" speech. The historic
Hanover Tavern
(still serving lunch and dinner today) had hosted such famous passers-by as George Washington and Lord Cornwallis. And
Slash Church
, now the oldest frame church in Virginia and unaltered since 1842, was welcoming such notable worshipers as Dolley Payne Madison, Henry Clay, and Patrick Henry.
Today, a stroll through downtown Ashland will take you past Randolph-Macon College (including the
Keeble Observatory
, open--free!--one evening per week during the school year), lovely historic homes, shops and eateries. Or pick up a map at the Visitors Center for the self-guided walking tour, which includes many Heritage Trail sites; the Heritage Trail explores the history and lifestyles of Ashland's 20th Century African Americans.
The producers-only
Farmer's Market
, open Saturday mornings in season, is a great place to taste the local bounty; only products from within 30 miles of Town Hall can be sold.
Center of the Universe Brewing Co
lets you sample their local brews every afternoon/evening except Monday.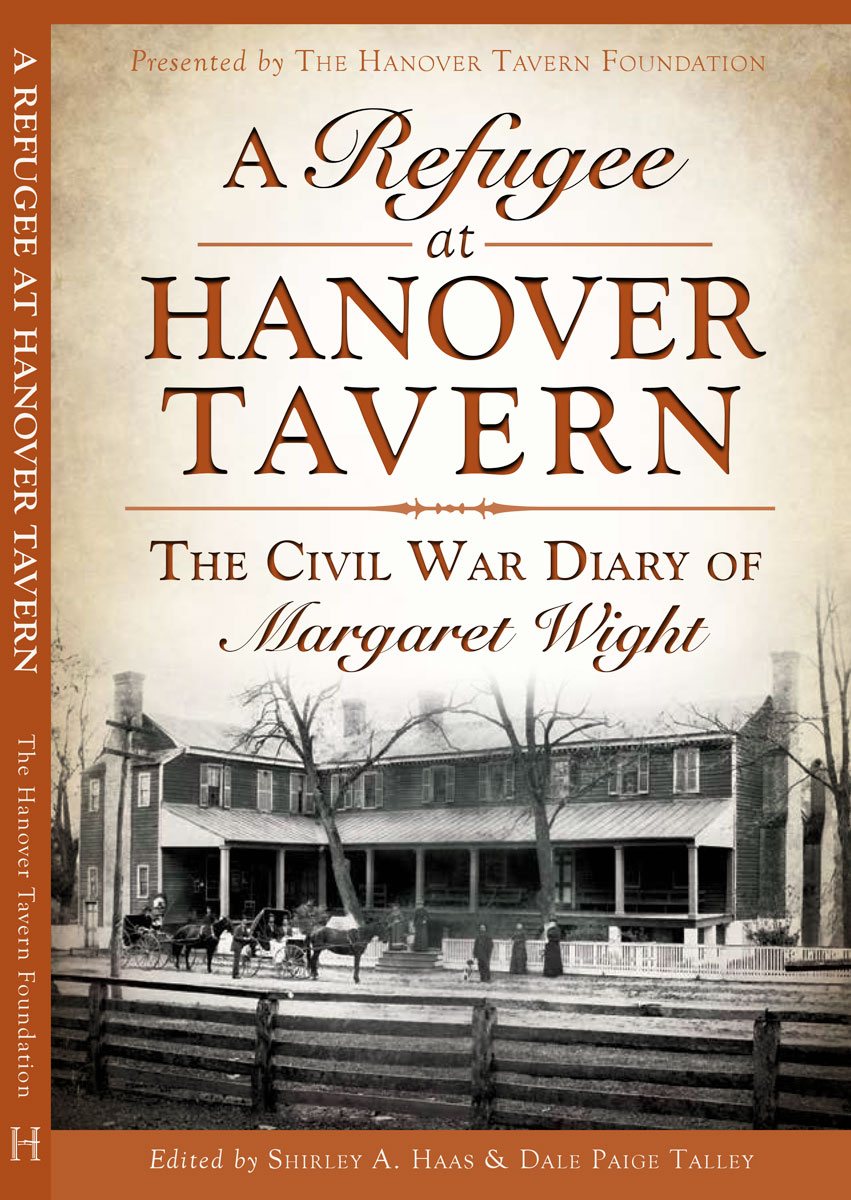 Beyond Ashland, Hanover County unveils plenty of goodies, and not just for history lovers (although you really must stop by the
Historic Hanover Courthouse Complex
, where, if you time things right, you can slip in to the
Hanover Tavern
(1791) for lunch or dinner).
Bikers - of both the leather and Lycra affiliations - love Hanover County for its wide open spaces. Heart of the Dawg and its two spurs - Dawg Leg East and Dawg Leg West - guides motorcyclists past waterfalls and along winding horse country lanes. Bicycle trails are abundant and lightly traveled, and the "
Heart of Virginia Century
" ride begins at Hanover Courthouse in September.
See a map of riding and biking trails here
.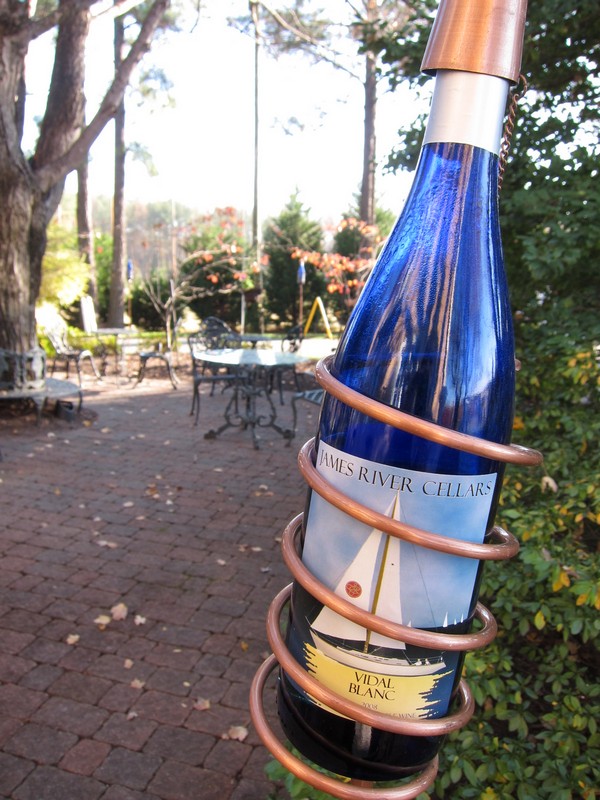 The closest winery is only 10 minutes away, and well worth the drive.
James River Cellars
in Glen Allen pours a wide variety of tasty treats and offers a big patio and lots of little nooks & crannies for whiling away the day with a friend and a bottle.






Helpful Links:

See Ashland
on Instagram
Ashland Hanover Attractions
Ashland Hanover Parks
Places to Stay
Places to Eat
Places to Shop

Hanover County Map (West)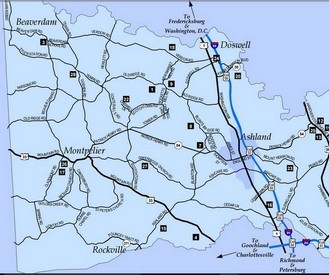 Hanover County Map (East)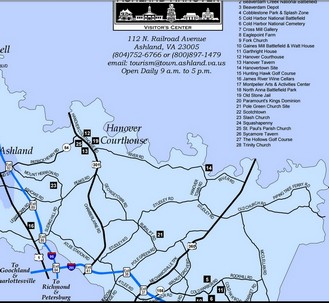 Sponsored by Ashland Hanover Tourism