Stinson Vineyards
in Crozet kindly (and mysteriously) sent me several bottles of new wine releases to sample, so I - not being much of a wine critic, but feeling some expectation to give feedback - invited some blogger friends over to help.
The truth is, what do I know about wine? I have no smarty-pants credentials next to my name. If someone says "sweaty saddle aroma" I think: assless chaps (never drinking
that
again). And cat's pee. Just, no.
This is not how I think about or connect to wine. I was the literal laughingstock at a party of Virginia wine bloggers for bringing an admittedly sad little bottle I had a heart connection to.
Ouch,
you guys. But that's a classic example of how my love for people and place is so much stronger than my palate.
So what bonafides give me the right to tell you whether Stinson makes bad wine or good?
Yes, me and wine, we're buddies. But if you follow my blog or Facebook page, I'm guessing you're not looking for tasting notes. Winery travel itineraries? Yeah. But food pairings and wine faults? Not likely.
Does it make a difference to you if I report that
Stinson's Rose'
was awesome? That its light blush was refreshing just to look at, and its dry fruity tasty goodness reminded me of the day Rachel Stinson poured it at a Virginia Wine Summit, at the dripping-with-elegance Jefferson Hotel in Richmond, and how deer-in-the-headlights happy she looked from all the attention her new winery was getting? That's what I think of when I taste Stinson Rose'.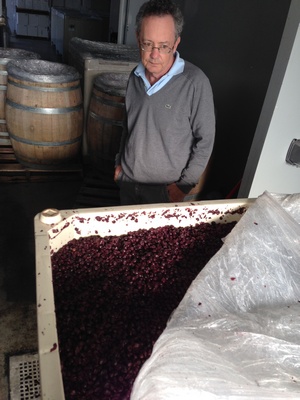 Do you care that
Stinson's Meritage
was complicated (to me)? That the tasting notes said "drinks well now and benefits from aging" and I thought,
well, it tastes pretty awesome now with these tasty prime rib tidbits I bought at Whole Foods?
But then a few minutes later I tasted it again and maybe didn't love it as much? But then the taste brought me back to Scott (Papa) Stinson leaving his pouring duties at the tasting bar to tour me and Rick and friends around his production room, and how engagingly smart and serious he was about his punch-down protocol and his new concrete fermentation egg. Did the Meritage get better then? Maybe. Probably.
Honestly, it was just so much fun, sitting around my dining table with friends, tasting these three wines (and ultimately many more), telling stories, I liked all of it.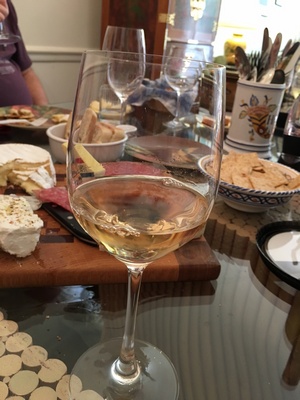 Is it important to you that
Stinson's Rkatsiteli
was one of the stranger wines I'd tasted – not necessarily in a good way - and would you be puzzled that several really smart-sounding wine people commented on my Facebook page that they thought it was astounding(ly good)?
This is why I don't write about wine (much). It's confusing. Even the most knowledgeable and experienced among wine judges have vastly different experiences with the same wine. In tasting events, I'm embarrassed to be the only one at the table who doesn't taste the stone fruits (or has to sneak into the kitchen to Google volatile acidity, for the hundredth time). And I live in fear that if I try to "fake it" and crib off the winery's tasting notes, some Somm will call me out and want to debate. (I'm looking at you. Yes, you.)
I'm not ever going to be much help to those wanting to talk about flavor profiles or a wine's aging potential. It's not my bliss, and honestly, wine in my house doesn't tend to last all that long.
Don't get me wrong: when I read a wine review from someone I trust, you can bet I want to try it. The wine world is vast, and if someone can help narrow it down to just a handful, for just awhile, I'm grateful.
But not me. All I can tell you is how those hours of drinking Virginia wine with friends, telling tales, nibbling at food pairings, those are the times of my life. To me, that's what matters.
I guess this means I won't be getting any more free wine?
---
This time of my life was brought to you by
Stinson Vineyards
, who provided the wine samples, and by my friends-in-wine and tasting mates, Paul and Warren from
Virginia Wine Time
and Kurt and Carol from
Wine About Virginia
. And by my in-house better palate, Rick.
Cheers,