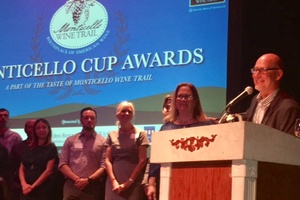 Trip Report | Monticello Wine Trail Festival sets a new standard for Virginia
Just back from the
Monticello Wine Trail
's
impressive awards and festivities, where the underrated
Cardinal Point Winery
took top honors for their beautiful
Union
blend. Other big winners for reds were
Michael Shaps Wineworks'
2014 Meritage, and
Pollak Vineyards
' luscious 2014 Cabernet Franc Reserve.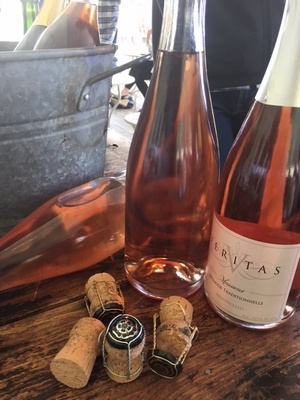 The top three whites hailed from Charlottesville's
First Colony Winery
(2015 Viognier) and
Pippin Hill Farm & Vineyards
(2015 Chardonnay Reserve), and also from Crozet's
Stinson Vineyards
(2014 Petit Manseng).
Trail event organizers outdid themselves, starting with a candlelit "best of" tasting and award ceremony at the
Jefferson Theater
on Thursday, followed by a series of "meet the winemaker" brunches and tours on Friday. I bought a ticket for the bubbly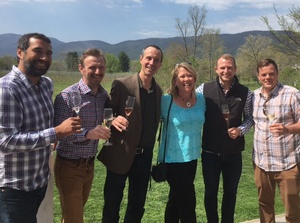 brunch at
Veritas Vineyards
, which was fortunately not over-crowded and gave me time to chat with each of the five winemakers; the resulting photo of the blonde having pushed into the winemaker photo op shows how much I enjoyed the company – and the wine.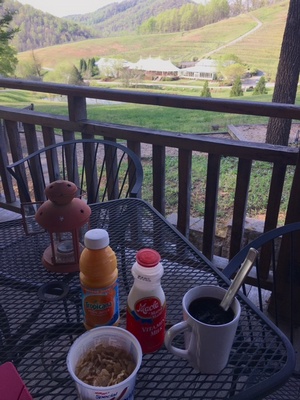 I skipped the festival itself – being too lazy to vie for my pours these days - and instead enjoyed coffee and a lazy morning on the unusually generous deck of an otherwise cozy log cabin. The romantic lodging, deck and spacious stone patio (with firepit) looks steeply down over
DelFosse Vineyards
' pond, ferocious mutts Lacey and Buck, and windowed tasting room, and can be rented on its own or as part of a wedding package.
The prior evening's view was the reverse – gazing up at the cabin from a private dinner and taste-fest of a few of the winery's classics: Viognier, Reserve Chardonnay, Cabernet Franc, and the rich port-style Meditation.
The DelFosse dinner will linger long in memory as a taste of the rich and relaxing evenings winery owners everywhere indulge in, or so we city-dwellers like to imagine.
With thanks to DelFosse's new owners, Mike and Adrienne Albers (and Chef Matt), and spirited dining companions Brian Yost (of
The Virginia Grape
blog) and Dax Mirial-Yost.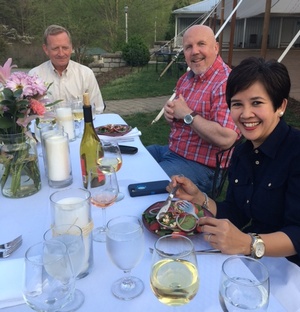 Safe and happy wine travels this spring. Cheers.