Wine Country pros share their favorites
"Why Virginia is for Wine Lovers", a recent Wall Street Journal article, capped off another strong year of positive press coverage for Virginia Wine Country. New York-based wine columnist Lettie Teague came down to explore after a wine-expert friend mistook a Virginia Petit Manseng for a high-end French.
She visited all the right places and talked to all the right people: Michael Shaps in Charlottesville (the maker of the confounding Petit Manseng); Stephen Barnard at Keswick Vineyards (who took top prize in the 2016 Governor's Cup); Luca Paschina, the pioneering winemaker at Barboursville Vineyards; Ben Jordan of Early Mountain Vineyards, and Rutger de Vink, the charismatic and ambitious protagonist of RdV Vineyards.
If you know these wineries, or these charming and eloquent industry spokesmen, you also understand that no visiting journalist stands a chance; they're bound to leave with a smile on their face and a case of wine in their trunk.
The WSJ article was good. But we wanted more. Excellent wine is plentiful in Virginia these days, and we wanted to hear more about lesser-known varieties that are showing promise, or up-and-comers crafting wines that stick in memory, like a catchy tune you can't shake.
So we asked a few Virginia wine experts to share some of their 2016 surprises, and we got a few surprises of our own.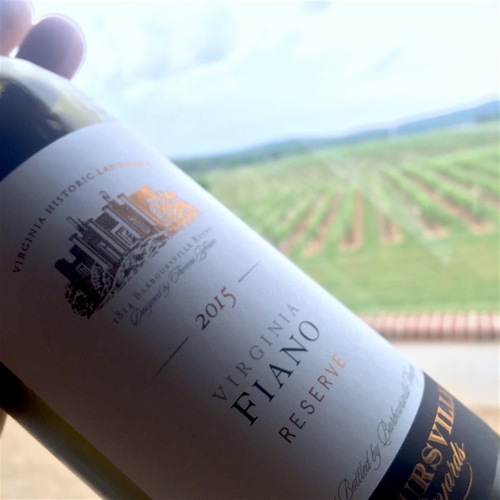 Hello Fiano
Early in 2016, Barboursville Vineyards released its inaugural botting of Fiano, a new grape for Virginia but one that is enjoying a renaissance in its homeland, the Campania region of Italy. Winemaker Luca Paschina wrote about this expansion of their Italian varietal plantings, saying "Vermentino's extraordinary success in our vineyards, through six remarkable vintages, has encouraged us to invest in plantings of other vinifera varietals from sunny, hot growing areas and ancient lineage in southern Italy."
Dave McIntyre, wine writer for the Washington Post, told us that Barboursville's Fiano was his most memorable Virginia wine for 2016 and called it "the first Virginia white I would describe as delicate."

Frank Morgan, author of Drink What YOU Like and host of Virginia Wine Chat, sampled the Fiano before it was released and described it on his blog as "dry, with wonderful texture," comparing it to a Loire Chenin.
Chris Parker, who as head of New Horizon Wines trailblazed the introduction of Virginia wine into the UK, also mentioned the Fiano as one of his most memorable, describing it as, "A new addition to the Barboursville range. Very limited quantity. A classic grape producing an aromatic wine that adds another interesting white wine that I think fits nicely into the Barboursville Viognier and Vermentino spectrum."
Chris says that though the wine is still in its early days, his first impressions were "very good - full textured citrus, stone fruit, tropical fruit, slightly flinty, bright balanced by acidity. Drink now but will improve with further bottle age."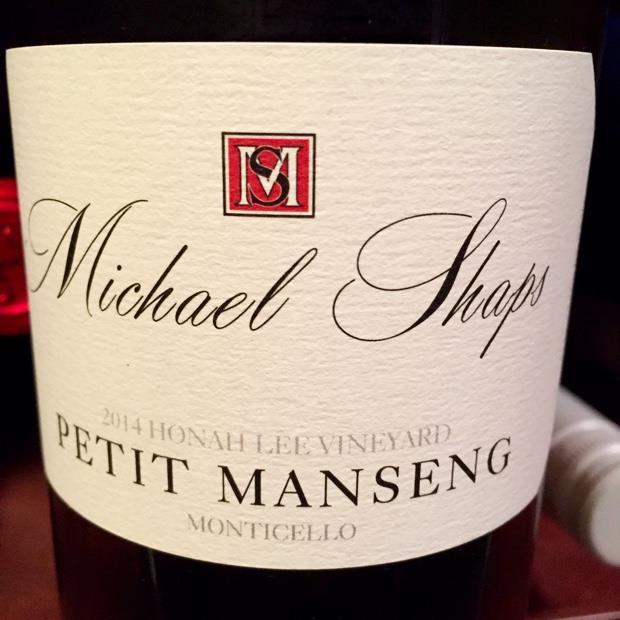 Mastering Whites
It's an interesting time for whites in Virginia. After years of wine chatter about reds – especially improved blending skills – whites are grabbing lots of ink.
Jay Youmans is the owner of Capital Wine School in D.C. and the first Master of Wine in the DC area. He's also the director of the Virginia Governor's Cup award program, through which he tastes hundreds – if not thousands – of Virginia wines a year.
His two most memorable? Both whites. The same Michael Shaps dry Petite Manseng that launched the WSJ article, and the Barboursville Vermentino that paved the way for the new Fiano.
Gruner Veltliner, another white rarity in Virginia, showed up on Richard Leahy's list. Richard is a wine writer, competition judge, and author of Beyond Jefferson's Vines: The Evolution of Quality Wine in Virginia.
Of the 2015 Gruner Veltliner bottling from Jump Mountain Vineyard in the Shenandoah Valley, he says, "This premier Austrian white grape is interpreted skillfully at this mountainous Shenandoah Valley site; aromatics of white pepper and wax bean. On the palate, a little hesitant; it needs another six months to fully emerge, but the texture is waxy and full, with the herbal flavors gradually unfolding. A classic style."
After a quick look, we could only find two other Virginia wineries - North Mountain Vineyards in the Shenandoah Valley, and Otium Cellars near Purcellville - producing Gruner Veltliner, which wine expert Jancis Robinson says no self-respecting restaurant wine list should be without.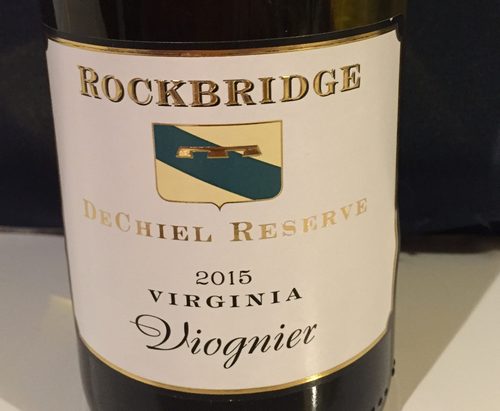 Viognier Hangs On
Lettie Teague, in her WSJ article, said that some of the winemakers she spoke with thought that perhaps Viognier is "not necessarily the best grape for Virginia." Despite that, a love affair has been kindled, and plenty of wineries are feeding that flame.
Two Viogniers showed up on Richard Leahy's list of 2016 memorables.
Of Rockbridge Vineyards' 2015 Viognier, he tells us, "This is the debut vintage for this 'signature' white grape of Virginia, from this long-established Shenandoah Valley producer, and it was worth the wait. The nose has elegant hints of white flowers and tropical fruits. On the palate, the acid is impressively firm, and the ripe tropical fruits emerge gradually, with fine acidity to match. Needs until mid-2017 but a fine debut."
Richard also liked Early Mountain Vineyards "Five Forks" 2015, a Viognier-dominated dry blend that he calls "a 'happening' wine with lots of floral and tropical fruit aromatics, yet with broad mid-palate and fine zingy acidity on the finish. A versatile wine, for sipping, matching with hors d'oeuvres or seafood or poultry."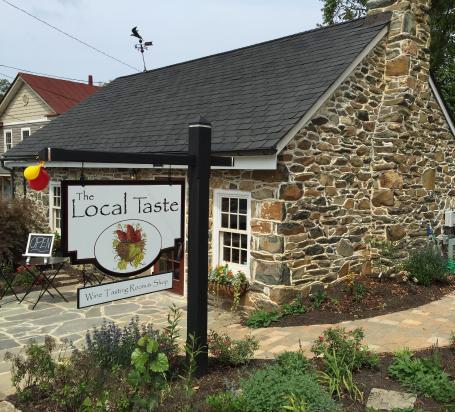 Chardonnay Slips onto the List
Chardonnay is one of the most popular wines in the world, but in Virginia it can be a little overlooked, probably because it's absolutely everywhere.
Kurt Jensen, of the Wine About Virginia blog, and his wife Carol are among the small group of humans who've been to as many – if not more - Virginia wineries than we have. But despite his wanderings, Kurt's pick this year was a Chardonnay from close to home – the 2015 release from the new Slater Run Vineyards (which sells through their tasting room/shop in Upperville, called The Local Taste). Kurt says their Chardonnay is "exquisite… beautifully balanced and with low alcohol" and that this Chardonnay was the favorite white wine at their Virginia wine party this year.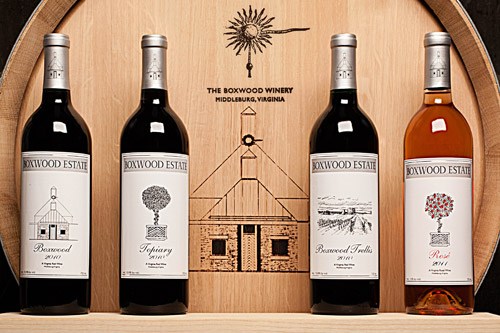 Bordeaux-style Blends
Despite our experts' attraction to unusual whites, reds still dominated their memories, and Bordeaux-style blends were first among equals.
Chris Parker favored Boxwood, a Cab Sauv-Merlot-Petit Verdot blend from Boxwood Winery in Middleburg, in addition to the single varietal Petit Verdot from Veritas Vineyards.
He told us, "Both have impressed numerous independent UK wine merchants including The Oxford Wine Company who listed both, and Boxwood has been on the wine list of Bar Boulud at the Mandarin Oriental Hotel London for five years."
Muse Vineyards' Clio 2010, another Cab Sauv-Merlot-Petit Verdot blend, captured the attention of Richard Leahy.
Richard said, "The 2009 vintage of this same blend won the 2015 Governor's Cup Award--when this winery in the Shenandoah Valley wasn't even open to the public. The 2009 version was elegant and balanced; the 2010 version was very "West Coast"-like in the best sense; rich, ripe and full-bodied with ripe black fruits, but with a fine minerality in the finish and pleasingly fresh acidity that brought finesse and balance to a rich, large and generous Bordeaux blend with spicy smooth tannins."
Loudoun County's Stone Tower Winery also impressed Richard with its "Right Bank" Bordeaux-style blend of Merlot and Cabernet Franc, called Stone Tower Wind Swept Hill 2013.
He said, "People will focus on the Hogback Mountain which (deservedly) got in the Virginia Governor's Case, but this wine was just as good in its own way. It had more mystery and depth of black fruit, and I was surprised that it had no Petit Verdot in it; pretty impressive for just Merlot and Cabernet Franc."
David Rosse of the Virginia Wine Notebook blog named Moss Vineyards' Vino Rosso – one of our favorites, too - as the finest Virginia wine he had this year. He recalled that he bought five bottles during his visit on very cold, misty May weekend.
Paul Armstrong of the Virginia Wine Time blog shared a particularly memorable red from Linden Vineyards, the 2006 Hardscrabble Red.
He said, "They did a special tasting in December and Jim [Law] pulled out some library wines. We were able to taste it there and loved it."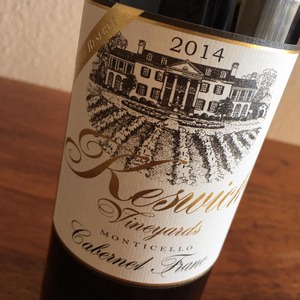 Cabernet Franc...
…made the list, as well – four times. No surprise there, given the grape's ubiquity as the second-most planted in the state.
Terri Hauser of the Virginia Wine Dogs blog is a fan of Keswick Vineyards' 2014 Cabernet Franc Estate Reserve, winner of the 2016 Governor's Cup.
Terri said, "The Wine Dogs love it when good things happen to good people, and owners Al and Cindy Schornberg, winemaker Stephen Barnard and the team at Keswick are the best (and make some of the best wines in the state). Cabernet Franc continues to reign as one of Virginia's strongest single varietals. Keswick's 2014 is outstanding, and a barrel tasting this December suggests the future holds even greater promise."
King Family Vineyards' Cabernet Franc 2014 was another of Richard Leahy's picks, which he described as "one of my favorite Cab Francs from a vintage that favored them, made with no new oak according to winemaker Matthieu Finot, from grapes picked earlier than for the riper Meritage-style wine."
Stefanie Gans, Northern Virginia Magazine's Dining Editor & Restaurant Critic, says she picked up a bottle of 2014 Cabernet Franc with "just enough tannins to keep me happy" after sipping through the line-up from Slater Run Vineyards at The Local Taste in Upperville. (Stefanie also asked us to put a plug in for a French wine sold at The Local Taste -- Chateau Kalian, Monbazillac, a blend of Sémillon and Muscadelle that French-born winemaker Katell Griaud brings back from her family's vineyard.)
Trevor Baratko, Managing Editor of the Loudoun Times-Mirror and wine writer says his "standout wine" from a visit to Waterford-area winery Terra Nebulo was a "medium-bodied Cabernet Franc, with firm structure and sharp dashes of cherry" crafted by Randy Phillips of Cave Ridge Vineyard in the Shenandoah Valley. Beyond the wine, Trevor is a big fan of the winery itself.
He said, "Driving through the historic village to the winery is a step back in time, and the winery's owners, the Morrisons, are kind and genuine hosts. There is some exceptional, exciting wine coming out of the Shenandoah, and it's nice for us Loudouners to be able to taste it in our own backyard."
Trevor's first choice for memorable wines, though, was also one of our long-time favorites: Hillsborough Vineyards' Bloodstone, which comes from the Fer Servadou grape.
"I rave about this wine to anyone who will listen," Trevor told us. "With hints of tobacco and white pepper followed by aged red fruit, Bloodstone impresses year after year. Kudos to winemaker Kerem Baki."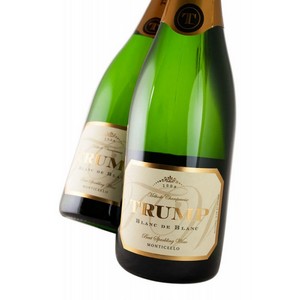 A Toast to the Year
From winemakers' growing confidence to a deepening cultivation of Old World roots, the past year left its mark on Virginia Wine Country. And then, of course, there was that little matter that found one of our own suddenly blinking in the bright lights of the world stage.
Terri Hauser reminded us:
"The Virginia wine that history will associate with 2016 is the Trump Blanc de Blanc [sparkling wine] and more broadly, the Trump Winery itself. A justifiable source of pride, the president-elect's frequent references to the Trump Winery catapulted Virginia wine into the mainstream news. Regardless of politics, Virginia wine was a big winner thanks to all the earned media!"
Our Picks
By now, our readers are ready to gouge out their eyeballs from all our Facebook proclamations of undying love for Lovingston Winery and their affordable Rotunda Red (pick a year, any year). So we won't mention that.
Memorable? That's easy. It's got to be Ox-Eye Vineyard's off-dry 2014 Riesling, which we picked up at a convenience store at the entrance to Wintergreen. My surprise at finding such an unlikely wine for Virginia at such an unlikely place certainly contributed to my pleasure in drinking it. Tasty.
Also – and I can't remember where I picked this up – Gabriele Rausse's lovely Vin Gris de Pinot Noir, and then there was Keswick Vineyards' 2013 Les Vents d'Anges Viognier, because despite his reputation for Cabernet Francs – and his big Governor's Cup win - Stephen Barnard is a Viognier wizard.
Of course, I can't forget the Michael Shaps 2012 Petit Verdot that wowed the crowd on our Rhone wine tour. So proud. Or for that matter, Pearmund Cellars' 2013 Petit Verdot. Granite Heights Winery's 2010 Evening Serenade. DuCard Vineyards' 2013 Merlot. General's Ridge Vineyards' 2014 Viognier.
I'll stop now. Under protest.
But I can't end without returning to something else Lettie Teague said in her WSJ article: that many producers she spoke to believed, given the youth of the wine industry in Virginia, that most of the best vineyard sites in Virginia may not yet be known.
How exciting is that?
Cheers to all in 2017. #DrinkLocal #VAWine #LoveVA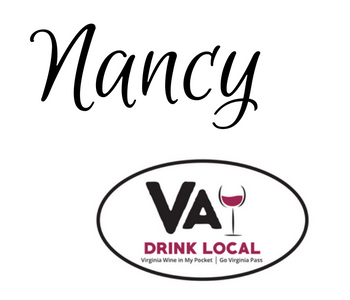 Subscribe to our eMail Updates
Follow us on Facebook
Follow us on Twitter
Follow us on Instagram