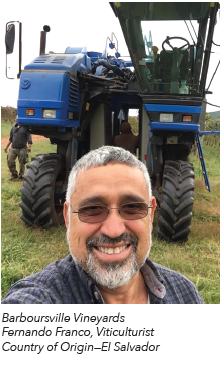 "I love the challenge."
That's all you'll get out of Fernando Franco about what was perhaps the most demanding growing season in Virginia wine history. No complaints, no whining, no drama.
"We were diligent with the vineyards and we kept everything healthy," he said. "We were able to harvest early before the hurricane rains came, and so far we couldn't be happier."
For 20 years, Fernando Franco, the rockstar grower of
Barboursville Vineyards
, has been tending the vines. It's in his blood; as a child in El Salvador, he would trail along as his father – "He could grow anything" - worked the family farm, raising vegetables and sometimes tobacco.
"That's why I love viticulture." he says. "I couldn't spend the day inside the winery. I like the sun outside."
In university, Fernando studied agronomy before having to flee. In that tumultuous time, high school boys were being corralled into trucks as they left their classes, hijacked to serve one military faction or another, and when thugs came for Fernando, threatening his family, it was time to go.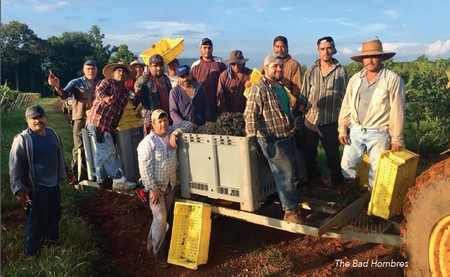 Today, it's the migrant workers on H2A visas from El Salvador and Honduras and elsewhere who leave their families to come work for Fernando. Some have returned for 18 years or more, so Fernando and Barboursville are also like a family for them. In his
exuberant Facebook posts
peppered with exclamation points, Fernando calls them the Bad Hombres, this team that tends 197 acres of vines for eight months a year.
When the men are sometimes met with less-than-open arms by locals, Fernando, who is now a U.S. citizen, tells them don't worry about it. Everybody is a foreigner here, everybody comes from somewhere else.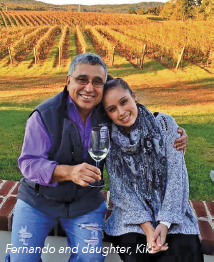 He says, "This country has always been an embrace for the one who needs, the one who suffers, the one who's been persecuted. That's what makes this country the beautiful place it is. It's my adopted mother, I call it, and it's given me this life and my two beautiful daughters. I'm proud to vote. And I look forward to vote. And be a positive part of society, and create this environment where we can grow these beautiful grapes and make this beautiful wine. It's a challenge every year and I'm proud to be a part of it."
Header photo credit Jon Golden/Barboursville Vineyards.