Virginia Wine Challenge Checklist for 2019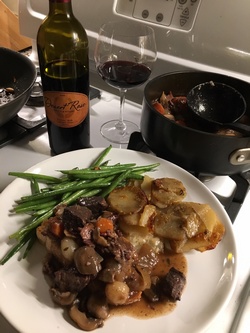 We threw a little holiday dinner party in December, and I was ready with carefully planned pairings of Virginia wine. The guests, all Virginians who were unfamiliar with local wine, would be blown away.

Over cocktails, when I explained what I do for a living - I write about Virginia wine travel - one of the guests said, "I really prefer big, bold California reds." Ugh. That old line. Don't waste your time, she was saying. It was less a statement of preference than a line in the sand.

There's nothing wrong with big, bold California reds; I love them, too. Twenty-some years ago, when the incredible, affordable 1994 Napa and Sonoma vintages started hitting grocery store shelves, I was in heaven. It was hard to find a bad bottle. Just bring a '94 Cab Sauv to a party and you were an instant expert on good wine. Why drink anything else?

But – and here's what I wanted my dinner guests to experience – there's a big wine world out there; life doesn't begin and end with Napa Valley Cabernet Sauvignon.

A little background: Shortly after falling for the '94 Cabs, I fell for a guy, and we dated from one Northern Virginia winery to the next. The tasting rooms were often tiny – remember Piedmont and Deer Meadow? – and usually not crowded. We tasted the Virginia reds, and compared them to the West Coast blockbusters, and we were, honestly, underwhelmed - the Virginia Cabs were usually thinner and lighter, and just different. Fortunately, we didn't stop there.

We kept chatting with the winemakers and learning from the patient folks pouring the wine. They taught us about the growing conditions in Virginia, how they differed from California and elsewhere, and how to adjust our expectations – and our palates – accordingly. Don't compare Virginia to California, they encouraged us. Be patient. Open your mind.

Meanwhile, the vineyard landscape in Virginia was changing. Growers learned that Cabernet Franc was often a better choice for our climate and soils than Cab Sauv, and by 2017 the one-time most-planted red in the state had fallen to fourth, while Cab Franc moved into the lead, followed by Merlot. Surprisingly, a varietal used primarily as a blending grape in France, Petit Verdot, had jumped to third place among the reds.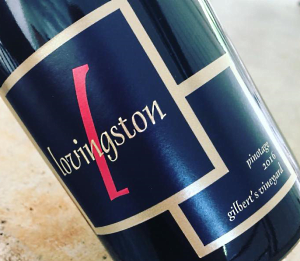 The shift in whites was just as dramatic: though Chardonnay still holds first place among all grapes in Virginia, it has declined by nearly 20% over the years, and Riesling, once the number four white grape, is barely a vineyard dot today. What's happening with all that land? Say hello to Petit Manseng, Pinot Grigio, Traminette, and Albarino.

Virginia is now one of the most diverse grape-growing regions in the country. The South African signature grape Pinotage shows up in central Virginia, Italian Nebbiolo thrives at Breaux Vineyards in northern Virginia, and CrossKeys Vineyards in the Shenandoah Valley makes a port-style wine from their estate-grown Portuguese grape, Touriga.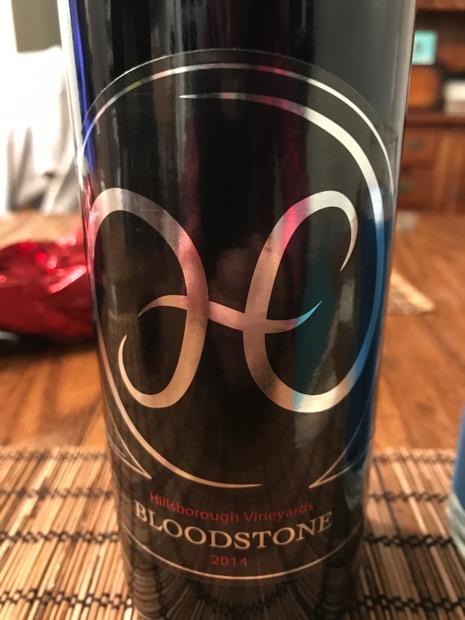 Are you a fan of the GSM blends from Cotes du Rhone? Maggie Malick Wine Caves in Purcellville grows them all: Garnacha (Grenache), Syrah, and Mourvedre. Nearby, Hillsborough Vineyards grows another French grape, Fer Servadou, for a light red wine they call Bloodstone.

Chardonnay – the fruit on seemingly every tasting room menu - actually makes up only 15% of total vineyard acreage. The other 85% are planted with more than 65 different varieties, from Aglianico to Zweigelt.

If you've got your heart set on a big, bold Cab Sauv, yes, you should probably stick with Napa, where more than half of the vineyards grow just that one (admittedly awesome) grape. But if you like a little diversity in your glass, Virginia's the place to be.



THE CHALLENGE:

Because new years are a time of renewal, learning, and growth, we've put together a little challenge for you:
Commit to Virginia wine for a year.
Get to know the varieties and the people and the memorable backroads. Count the wineries you visit and the grapes you taste. Take photos, and keep notes - the longer you explore, the more you'll value those looks back.
Here's a Challenge Checklist to guide your explorations, but if time or money are limited, feel free to create your own. There are plenty of online resources to help with your planning.
Tip: When you create an account on our website or app (see Tools, below), you can log-in to check off wineries visited and take notes. Our book,
Virginia Wine Country Travel Journal
(Amazon), also has check-off lists and notes pages.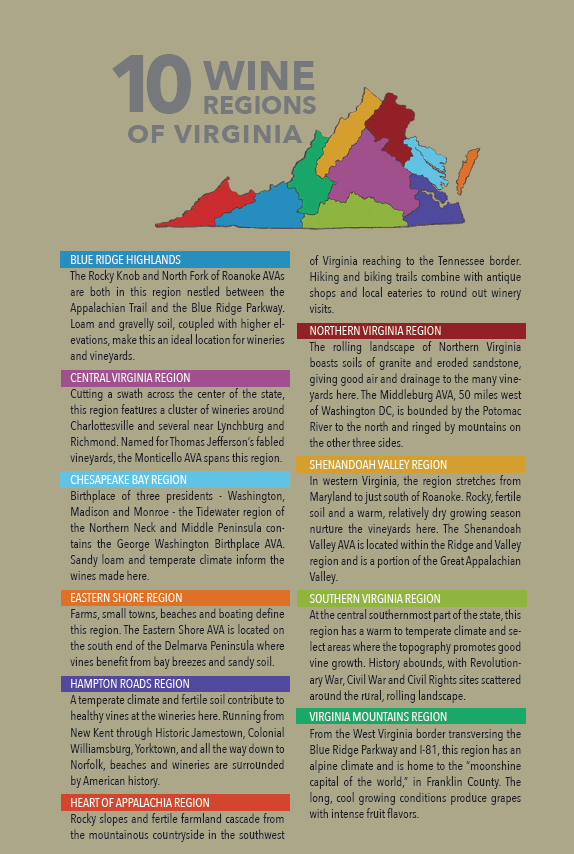 Challenge #1: Visit at least one winery in each of Virginia's ten regions.
How-to Tip: Click the "Regions" filter on our site or app to see a list or map of all wineries in each region.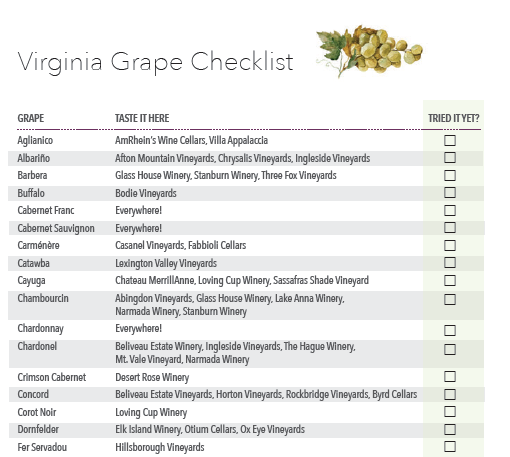 Challenge #2: Taste 10 new grapes.
Use the Virginia Grape Checklist to check off the wines you've tasted already, and then pick 10 more you want to try this year. Note that you really can't be a purist about this, because most wines include more than one grape. The idea is to have fun, talk to the tasting room team (and winemaker if you're lucky), and learn a little.
How-to Tip: The Virginia Grape Checklist is in my book, Virginia Wine Country Travel Journal, but if you don't have that, just email me and I'll send the list to you.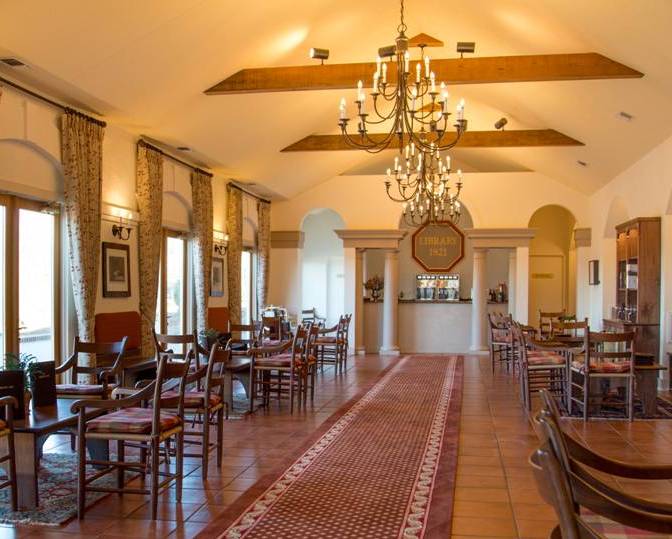 Challenge #3: Try at least one high-end Virginia wine tasting experience.
Many wineries have been around long enough to have compiled deep "libraries" of their wines from years past, and they offer tastings in special settings with extra attention and sometimes even little nibbles. Be a VIP and live it up!
How-to Tip: Many wineries offer these, but a few of the best VIP, Cellar, or Vertical Tastings are at Barboursville Vineyards (pictured), Breaux Vineyards, Chateau O'Brien, Gray Ghost Winery, and Linden Vineyards.
Challenge #4: Try a barrel tasting.
Nothing makes you feel like an insider more than sipping wine before it's gone into the bottle. Lots of wineries do this now, usually as part of a specialty tour or tasting - check their websites. (Pictured is Winemaker Damien Blanchon at
Afton Mountain Vineyards
)
Challenge #5: Join a Wine Club. Or two.
Joining is usually free, and three or four times a year you'll get two or three bottles at a nice discount either in the mail, or at a winery pick-up party. Free tastings and discounted event tickets are usually part of the package, as well. Wine clubs are a great way to get to know a winery better and become part of the family, and there are often extra, unpromoted perks like Wine Club Exclusives, when the winemaker makes only a few hundred bottles of this or that from small plantings.
---
Tools to Help Plan Your Year of Virginia Wine

•
Virginia Wine in My Pocket.com
– List and map of all Virginia wineries, cideries and meaderies, plus Wine Country Events and a Travel section with wine getaway itineraries and guides. (Also available as a free app in
iTunes
and
Google Play
.)
•
VirginiaWine.com
– Official site of Virginia wine, including videos and industry information.
•
Virginia Wine Blogs
– some of the most comprehensive and informative include
Virginia Wine Time
,
Wine About Virginia
, and
DrinkWhatYouLike.com
•
Virginia Wine Country books
– All of these are available on Amazon:
Virginia Wine Country Travel Journal
(Nancy Bauer);
Beyond Jefferson's Vines: Complete Guide to VA Wine History
(Richard Leahy);
Handy Guide to Virginia Wineries
(Donna Gough);
Virginia Wine: Four Centuries of Change
(Andrew Painter);
Dream, Build, Believe: The Founding of Notaviva Vineyards
(Stephen Mackey)